Using Fetch
You should have received an email from me containing information about logging onto the server. Using the username and password provided in this email, open a new connection with Fetch (⌘N) and login to your sever using the following settings: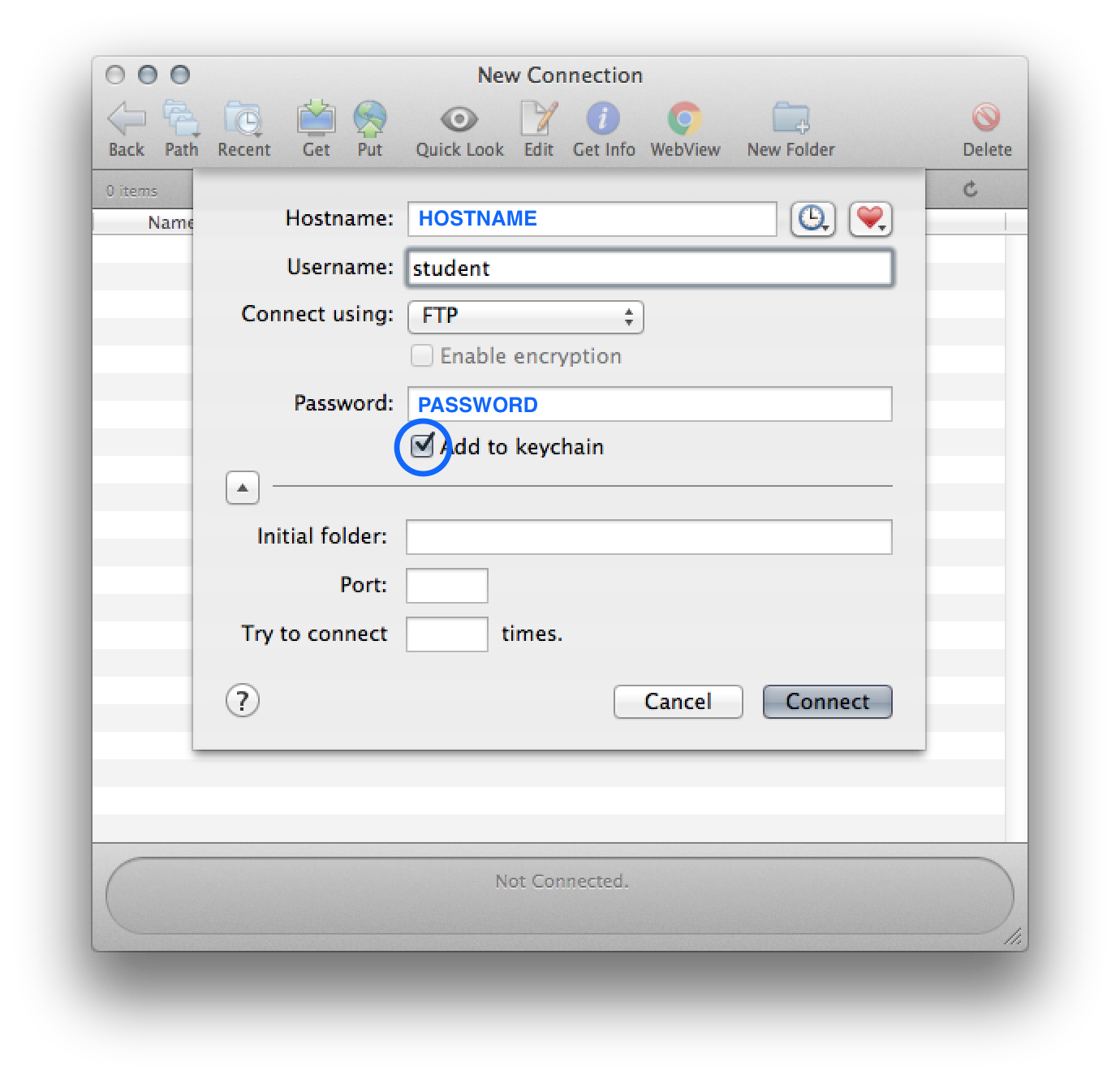 Username is student
FTP will be the default connection setting.
Password should be the password you received in your email.
Initial folder: If this is your first time logging onto the server, leave this field blank. Otherwise, enter your firstname, which should be the name of the folder you created for yourself.
Once you've logged in and have created a folder for yourself:
Open another connection with Fetch (⌘N) and enter the same information as above, making sure to fill in the "Initial Folder" field. Click on the heart icon ❤️ and select Make Shortcut.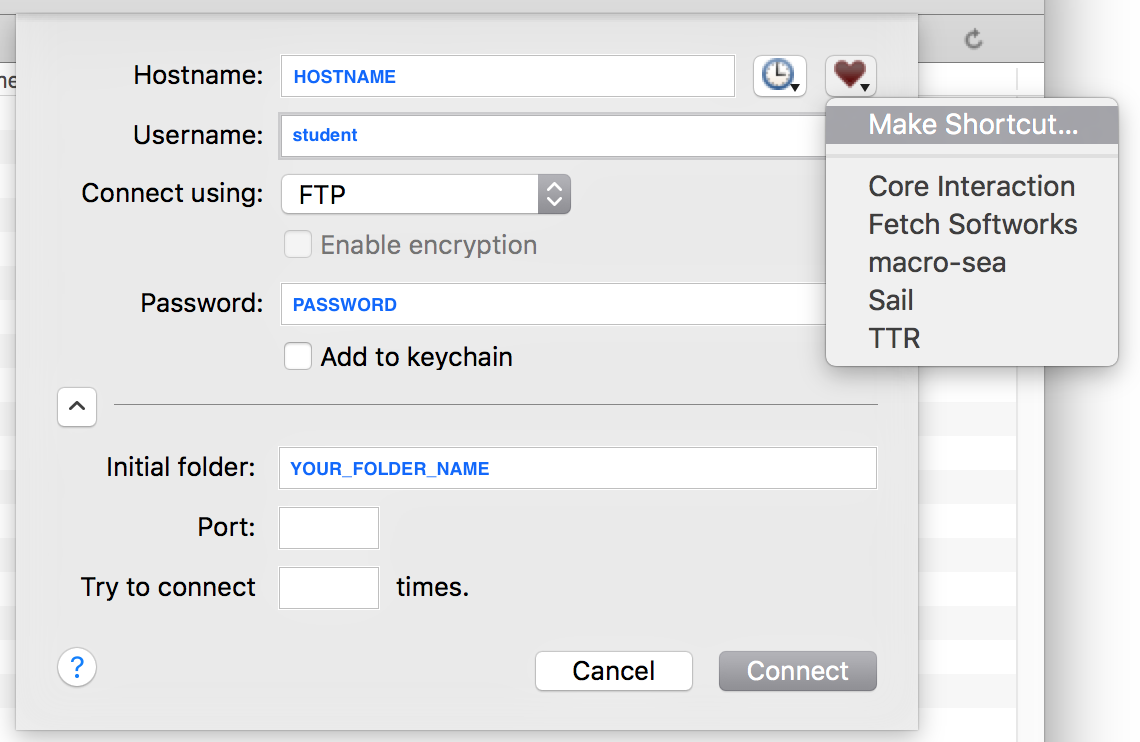 You can name your shortcut whatever you'd like. Be sure to check the box labeled: Make this the default shortcut.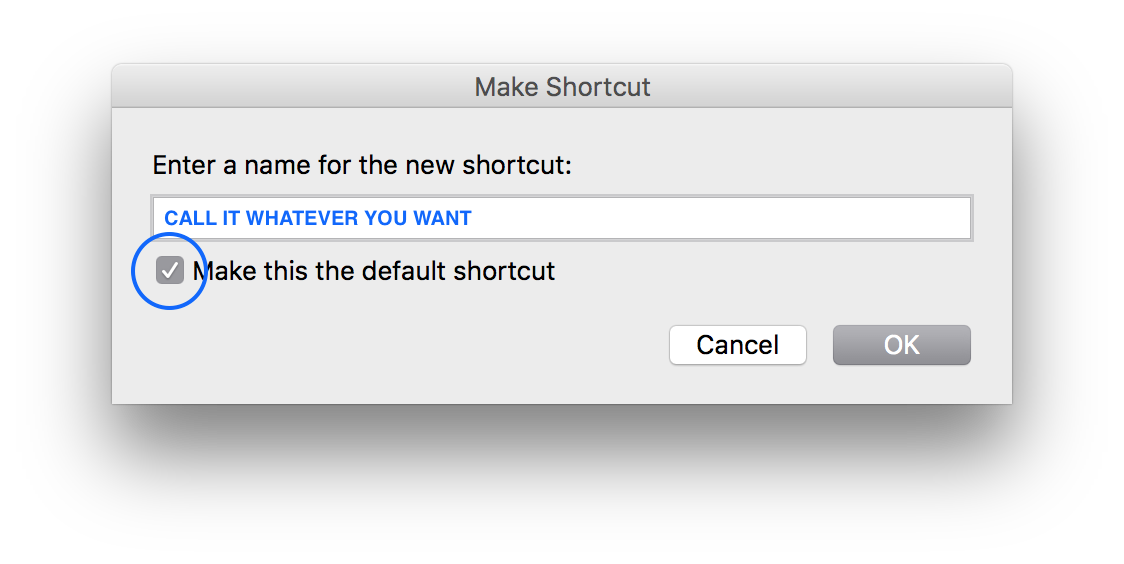 Now you can select your shortcut from the menu for easier connection.
✔ ✔ ✔
Now what???
Some FAQ regarding Fetch.
How do I make a new folder?
Click New Folder or drag a folder from your computer into the Fetch browser window.
How do I name my folder or file?
Come up with a logical naming system for yourself using only lowercase letters, numbers, hyphens and underscores. Do not use spaces. Ever. These rules apply to all files and folders you upload to your server.
How do I upload files to my server?
Fetch works just like the Finder folders and windows on your computer. Drag any file or folder into the Fetch browser window. Your cursor should display a + to indicate that you are "adding" content to Fetch. Once you drop your files within the Fetch window, they will be uploaded to the server.
How do I edit files once they're on my server?
You can download the file by dragging it out of Fetch and into a Finder folder. Once you have edited your file, you can update it on your server by re-uploading per the instructions above. Another way to edit files on Fetch is to select the file and click the Edit icon. The file will open in the default progam associated with that file type.
What happens if I logout?
You'll have to log back in :(
When I use Fetch, am I connected to the internet?
Yes